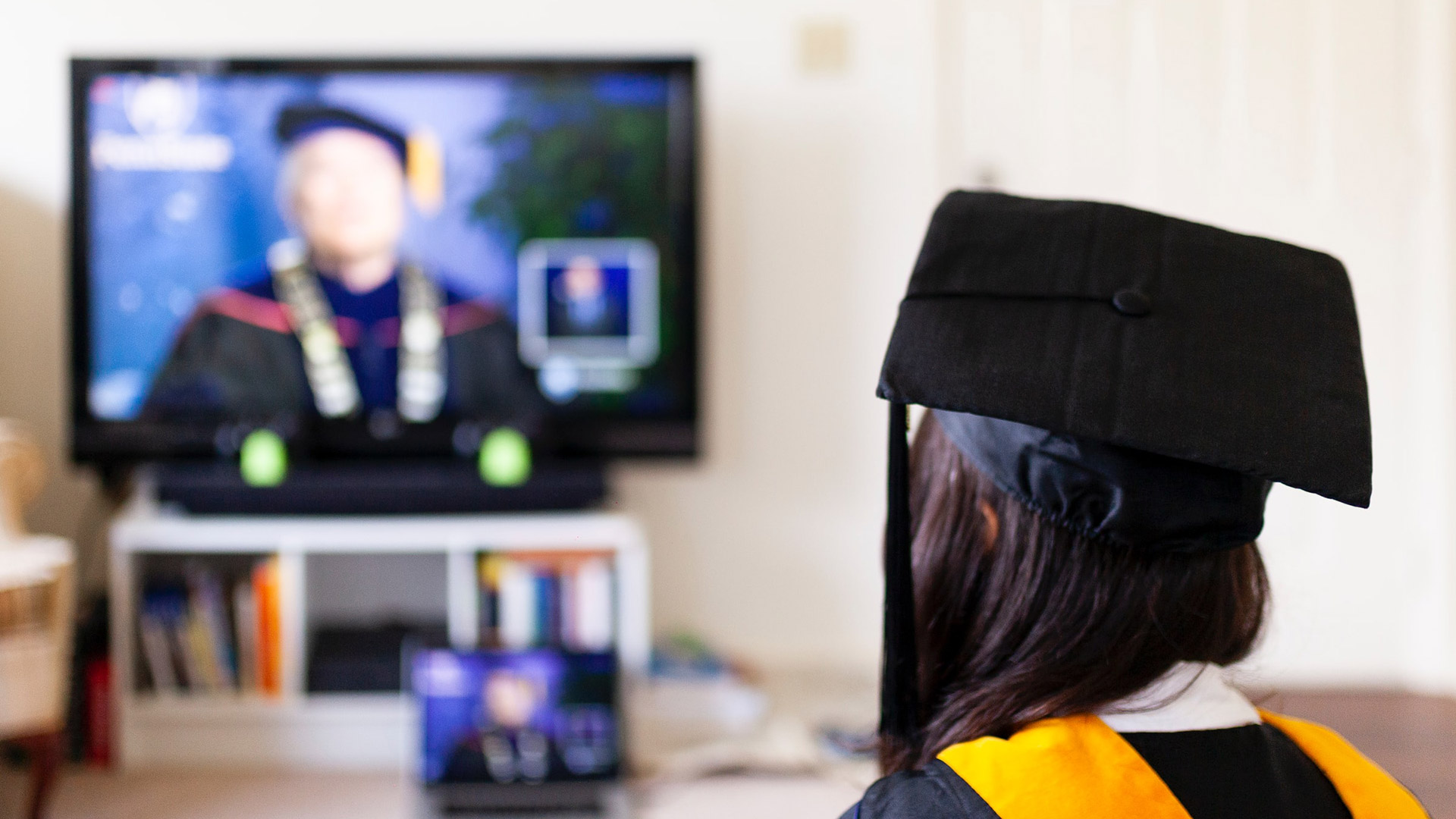 After years' worth of time, resources and effort, you now have a graduate! But this time's graduation season is anything but ordinary. The coronavirus pandemic is forcing students to spend their senior year locked down at home.
However, a pandemic shouldn't outweigh this happy milestone. Graduates spent years getting ready for the real world. Regardless of restrictions, the show must go on. And, it only fits to surprise them with the best present to congratulate them on this achievement.
In this article, we rounded up the perfect gift ideas for every type of graduating student. Work your way through our list until you find the best gift for them.
Congratulation Gifts for Every Type of Graduate
1. For the sweet and loving: Chocolate bouquet
Nothing says "Congratulations!" better than a sweet-tasting chocolate bouquet. This makeshift bouquet holds a long-stemmed faux rose around delicious chocolates, which perfectly captures your sweet wishes.
While they will work well if you're a family member or friend, this bouquet will be an ideal gift if you are the boyfriend or husband of the graduate.
2. For the aspiring Da Vinci: Wooden easel
If the graduate you know loves to draw or paint, add the wooden easel board in your choices for perfect graduation gifts to say congratulations. 
This easel will be handy as your loved one can use it as a support while painting or drawing. After using it, your graduate can keep their art supplies inside. This wooden easel comes with a storage box that can hold their pencils, paintbrushes, watercolor paints, or watercolor papers.
3. For the ones who need good lighting: Ring light
In today's work at home — or study at home — setup, good lighting is a must. You need to look your best when doing a video interview, and a portable desktop ring light will help with that. It doesn't only help enhance your features; it also lets the interviewer see your facial expressions well.
This gift is also perfect for those with a YouTube channel or those who like to make TikTok videos.
4. For the caffeine lover: Coffee maker
For graduates that need their daily shot of caffeine, say congratulations with graduation gifts like this! With or without the virus, they get to enjoy their cup of coffee before starting the day. 
This coffee maker will also make for a great housewarming gift for the ones moving out of the house. They get to stay focused throughout the day while saving money, which they can not have when buying coffee at fancy shops.
5. For the stylish: Platform sandals
Platform sandals are a great gift for graduates that love to elevate their innate beauty. This pair of platform sandals promise comfort and style to whoever wears them. They also come in pink, brown, white, and black — which they playfully call blush, choco, cloud, and onyx.
These aren't only for the ones that feel like they lack a few inches of height. They are for every type of graduate that wants to look their absolute best on any occasion.
6. For the tech-savvy: Wireless keyboard and mouse
Techy people will appreciate all the congratulations with graduation gifts like this wireless keyboard and mouse from Logitech. This combo will help perform their workflow more seamlessly, thanks to the noise-free mouse and keyboard. 
On top of that, it has a long battery life, with enough juice to power through their work or gaming session. The full-sized keyboard also has a palm rest that prevents hand wrist strain.
7. For the fitness enthusiast and eco-conscious: Hemp mat
It's no news that many Gen Z'ers are eco-conscious. They choose a brand that also contributes to the wellness of mother earth. One of the oldest age groups of this generation is now graduating students in college. Hence, a sustainable yoga mat will be an ideal gift for fitness enthusiasts and environmentally conscious graduates.
This eco-friendly yoga mat from Flow Fitique will help the receiver perform their poses well. Contrary to how it looks, this mat isn't harsh, so your graduate won't have to worry about skin irritation. The bottom layer is also made of PVC rubber that provides enough floor grip and extra support during the exercise.
8. For those that need a perfect eyebrow: Eyebrow pencil and mascara
We have been wearing face masks and shields to protect ourselves from the virus for more than a year. With lip makeup out of the question, investing in our eye look is now essential.
If you're looking for these beauty enhancers to give the graduate, head on over to Happy Skin's website. This compact and double-ended tool helps define and tame the eyebrow. With this eyebrow and mascara, they no longer have to worry whether or not they look great.
9. For the gamers: Gaming chair
If your graduate tends to destress from school with online games, this gaming chair from Kaleuill would be your best option.
This multifunctional gaming chair is made of leather, which means it's designed to last. It has a cushioned backrest that lets the receiver sit or lie down comfortably. It also has a high back swivel and height adjustment. On top of that, it has a soft pillow that ensures a comfortable gaming experience for the user.
10. For skincare lovers: Skin hydration kit
Staying at home has given some of us more time to learn new things, while others invest in good skincare.
If your graduate loves having great skin, say congratulations with graduation gifts like this super glow skin hydration kit from the Face Republic. This skincare product claims to help the users achieve a healthy and youthful glow. It also helps boost the skin's natural clarity and radiance. Inside this carefully curated kit are cleansing water, toner, whitening cream, and sunscreen.
11. For the chic and uncomplicated: Tote bag
For graduates that need to bring essentials daily but don't want to sacrifice style and comfort, give them this fashionable tote bag.
This screen-printed tote bag from Stuff Happens Studio is made of a thick canvas fabric, which guarantees quality material. Besides the daily essentials, it also has an inner pocket to hold a cellphone or ballpen and a pocket to hold your bottle. On top of it all, this fashionable tote bag is earth-friendly, which is, quite honestly, the biggest win.
12. For the lover of all things elegant: Midi dress
White midi dresses are perfect for the ladies that love white dresses. This dress from Love, Ara has a backless design balanced with a slightly conservative square neck design in front. It also has button accents on the side for that chic and vintage touch.
This local brand wraps its items in a beautiful package, so you will not have to worry about the gift box. They also allow special messages, should you request to have them sent directly to the graduate.
13. For the Potterheads: Hogwarts sweater
If the graduate you know is a big Potterhead, he'll surely love this sweater from The Perfect White Shirt. This unisex sweater has a printed Hogwarts logo against a gray material.
We guarantee you they will love this, and you'll receive a warm hug when you give this sweater.
14. For the shoe lovers: Running shoes
For graduates that love to run every morning or play basketball, these versatile trainers from Adidas will fit into their daily routine just right.
These running shoes boast a quality-made rubber outsole and generously cushioned midsole. Both of which ensure a solid foundation and a smooth ride daily. These running shoes are also available in four other colors: legend ink and core black, legend ink and cloud white, core black and cloud white, and royal blue and cloud white.
15. For the sentimental: Classic watch
Known as a quintessential symbol for special moments, watches are a great graduation gift for the graduates in your life. It's an excellent metaphor for all the time and hard work they put in. Watches will also be a thoughtful remembrance from you, making them a perfect heirloom.
Besides its sentimental purpose, this leather analog watch from Casio will also be an excellent investment. While this model is designed for men, they also offer lovely pieces for the ladies.
16. For the ones with a sweet tooth: Gift basket
True to its name, this Love & Surprises gift basket from LocalGift.ph will be the best surprise present to give a graduate that you know. Whether you're planning to give this on top of your other present or as is, this gift basket will be received with warm appreciation. Inside the bundle are a red love pillow, couple bracelet, Cadbury Almond, Cafe de Lucca, and Toblerone bars.
Say congratulations with these graduation gifts now
Have you gotten the perfect gift idea yet? Let us know in the comments below!